Click the titles below to read the articles below
1997 Priest as Pedophile: The Sexual Abuse of Catholic Children, by Merit Bennett and Elaine Simard LaForet
---
03.19.23 – Archbishop apologizes for priest abuse
---
12.29.22 – Survivors of priest abuse OK settlement from Archdiocese
---
12.29.22 – Judge OKs Archdiocese of Santa Fe settlement of $121 million inclergy abuse cases
---
12.29.22 – N.M. attorney general announces report on priest abuse, potential prosecution
---
02.07.22 – Archdiocese of Santa Fe, abuse victims clash on sealing of insurance records
---
12.07.21 Archdiocese of Santa Fe to hold another auction in hopes of raising cash for clergy abuse victims
---
09.29.21 Archdiocese raised more than $1.6 million from property auction
---
09.10.21 Archdiocese of Santa Fe's legal fees exceed $2.3 million in bankruptcy case
---
07.05.21 Santa Fe Archdiocese Says Property Auction Postponed
---
05.12.21 Archdiocese says it needs consultant for real estate issues
---
04.24.21 In New Mexico, shadows of a former haven for troubled priests
04.24.21 Archdiocese of Santa Fe tries to shed property to collect funds for settlement
04.20.21 – Two buyers express interest in Archdiocese IHMRC
---
06.28.20 SFNM – Former priest accused of sex crimes heads to trial
---
"Many, many more children were abused than ever came forward. This may provoke reflection or realization that what happened to them did impact their life in a negative way. It may cause others to come forward, if not with claims, but dealing consciously and openly, because that's the only way you can deal with these things. Like anything else, the more you talk about stuff that is hidden or suppressed, the healthier it gets." ~ Merit Bennett
---
Catholic leaders wary of film; others welcome spotlight on sex abuse, cover-up – NEWSOK
Catholic leaders wary of film; others welcome spotlight on sex abuse, cover-up – SFNM
---
"This was an interstate conspiracy that each one of these dioceses willingly joined to harbor a known pedophile," said Merit Bennett.
"This is the worst of the worst," he said. "They allowed him to roam free — church to church, diocese to diocese, children to children. Not one of them picked up the phone and dialed 911, including Denver." ~ Merit Bennett
---
TELEGRAM & GAZETTE – By Bronislaus B. Kush, Telegram & Gazette Staff
"There are just so many people out there who have been abused by these sick priests," Mr. Bennett said. "It's amazing that nobody had reported what had been going on for years."
---
"The damage done to him is very insidious," Bennett said of his client. "He is in therapy and has been for the last couple of years."Since the early 1990s, Bennett said, he had handled 100 to 150 cases in which people alleged molestation by priests or other adults while they were children. Each one was settled before going to trial, but the victims were scarred for life, he said."I don't think I've ever met anyone who's recovered from it," Bennett said.
ALAMOGORDO DAILY – By Milan Simonich
---
"It's a huge tragedy." ~ Merit Bennett"I know of no other behavior that causes more damage than childhood sexual abuse. It's probably the worst thing that could happen to a child." ~ Merit Bennett
---
"The stories of abuse were unbelievably shocking." ~ Merit Bennett
---
PALM BEACH POST – By Dan Moffett
"The rural nature of New Mexico played a part in making the problem worse here. Priests have more power than any other authority in these rural places. There is a reluctance to question or report any weird behavior." ~ Merit Bennett
---
---
Lawsuit accuses Denver Archdiocese of allowing sexual abuse
Alison Noon and The Gazette | December 23, 2013
---
Regarding Academy Award Winning Movie Spotlight:
Bennett agreed that the movie could bring up painful memories, but he said it also could help many victims. He said he has anecdotal evidence that "many, many more children were abused than ever came forward," and they are nonetheless feeling shame and guilt and are trying to suppress the memories. "This may provoke reflection or realization that what happened to them did impact their life in a negative way. It may cause others to come forward, if not with claims, but dealing consciously and openly, because that's the only way you can deal with these things. Like anything else, the more you talk about stuff that is hidden or suppressed, the healthier it gets," he said.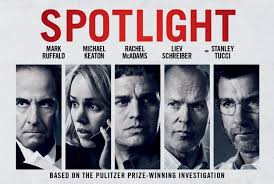 Going to the depths of your being "is sometimes positive and sometimes tragic. But at least they get to take the journey — if they get help," Bennett added.
---
---